Building Fund Status as of April 2023
Partner with us on our journey to purchase our church building and see the provision of our Mighty God, as we enlarge our territory!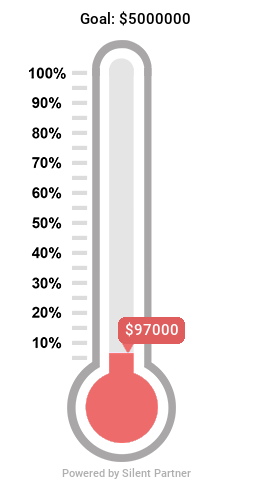 You can give directly to our building fund now
Look what the Lord has done!
In April 2022, we moved into our new building at 504 N Rimgrove Dr. La Puente after more than 20 years of believing and praying for a building of our own. A building that would accommodate our growing church, our children, and the needs of the community. In the 10 months that we have occupied our new building, God has done tremendous things through our ministry.
In April, the first month we moved into our building we put on a first class production called "The Witness" this was a free event to our church and community, with a cast of over 100 people who have all been saved and redeemed by God's grace.
New Beginning serves the community with "Care Acts" each year. We service over 50 homes that need repairs, painting, plumbing, cleaning, or trash haul. This is a free service to families that are in need and cannot otherwise afford the help.
Operation Christmas Child is an annual event where we collect shoe boxes from our church, organizations and community. Each shoebox is packed with gifts and shipped to 3rd world countries for a child to open on Christmas Day. This year we collected over 10,000 shoeboxes for children all over the world.
Food Bank – Each week we feed hundreds of families through our food bank. This is a service that started in our previous location and we continue here in our new location. The need continues to grow for families that are in need of food, not only do we offer them food but prayer and hope.
Support Groups –Each week we host support groups for those that need support with Recovery, Anger Management, Stewardship, and Griefshare.
Vacation Bible School – This summer we hosted Vacation Bible School. A 3 day fun filled camp for children ages 5-12. A place where kids can come and have fun while learning about the things of God.
Summer Creative Camp for the community – This was our first year hosting the Summer Creative camp but it won't be our last. We offered Piano, guitar, drum, and voice lessons for the children of the church and community.
Marriage Seminar – We truly believe in strong marriages. Strong marriages can create strong families, and strong families can create beautiful communities. We hosted a marriage seminar for over 100 couples and seen God move.
We are excited about what God did in 10 months! We want to continue to be an asset and create positive change for our community and for the families in our congregation…. and this is where we need your help. The building we currently occupy is for SALE and we want to buy it. We are raising 5,000,000 for the purchase of our building. Will you partner with us? Will you help us continue to build the kingdom and reach the community?
You can give directly to our building fund now
You can also call (626) 559-1414 to give over the phone.